Town dwellers in Japan have faced a rising tide of attacks from black bears, which are driven by a lack of food to venture into what were previously uncontested spaces. A story in The Guardian puts the number of casualties since April at 158 as well as two lost lives. Unlike the United States, where black bears are a constant risk for human misadventure, there is strong evidence to suggest that the bears are being driven by disruption to their normal food supplies rather than selecting centres of human activity as easy pickings for a quick meal.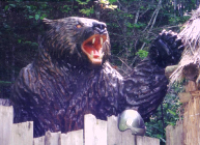 Human fatalities arising from attacks by bears have figured in Japanese history for years. The museum reconstruction of the Sankebetsu episode on Hokkaido in the early twentieth century is pictured here. It came about after human incursions into virgin jungle. A conflict of interest with the formerly unchallenged top species was resolved on human terms. The current spate of bear attacks has broken a previous record high recorded in 2020, with many incidents being logged in Honshu, the largest island in Japan.
Unofficial estimates of Japan's bear population range up at 44,000, nearly three times the 15,000 recorded officially in 2012. Without a corresponding increase in territory and food sources, there is no avoiding a state of constant conflict between species.