Members of the public eating oysters and other shellfish generate large volumes of shells, most of which will end up in landfill and incinerators. Local authorities on west coast of France are taking the opportunity to encourage householders to recycle empty shells at local recycling centres. Their work is simplified because the local economy already includes a significant proportion of the nation's oyster producers.
The adjacent estuaries of the Charente and Bordeaux's Gironde are the beating heart of France's ostreiculture sector and generates huge quantities of waste oyster shells. Local processor Ovive converts oyster shells, grinding them down into a poultry industry supplement for laying birds. Operations director Coline Saunier told the local France Bleu news team that the company processes about 3,000 tonnes of oyster shells a year, of which 95% comes from industry professionals.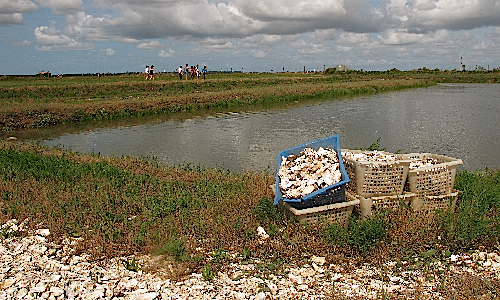 Further south, alongside the Gironde estuary, local authorities are using oyster shells to make a special mortar for use on the roads, filling in damaged roadsides. There are no tonnage figures for this use of oyster shells.
The cost of collecting shells from householders in the Charente departement all the year round then, is incremental rather than requiring capital expenditure. Waste contractor Cyclad gathered 71 tonnes in 2021. But as the consumer waste stream grows, so will the time spent sorting and cleaning the shells.
The professional waste stream needs to be sorted to make sure that stray lengths of polypropylene rope, metal fragments or glass are removed before processing the shells. Compared to these fairly basic requirements, the consumer waste stream brings with it an unknowable quantity of ring pulls, party napkins (the stronger felt-like matted ones) lemon slice debris, not to mention plastic cutlery.
A major risk for shell processors is picking up the stainless steel wires used to turn ordinary oysters into easy-open gourmet mouthfuls. The wire is thin and the easy-open components are easily missed on a busy sorting line. While the consumer waste stream is counted in tens of tonnes, the additional sorting requirement can be carried by the revenue earned on the industrial waste stream.
The feasibility of setting up a consumer-specific sorting line in parts of France without an existing industrial user base is a very different proposition. It will be more onerous than adding a modest increment to existing capacity and will be a challenge to future planners.
This piece of extended writing is an example of what would be available to logged-in subscribers in the post-beta phase. See the main menu for links to subscriber packages and logins.