The UK has been a strong market for olive oil in recent years, in a world where consumers are spending more than 14 and a half billion pounds a year on the Mediterranean's most important crop. UK consumers will be paying rather more than their European neighbours in the coming months. They already pay over the odds, as it is.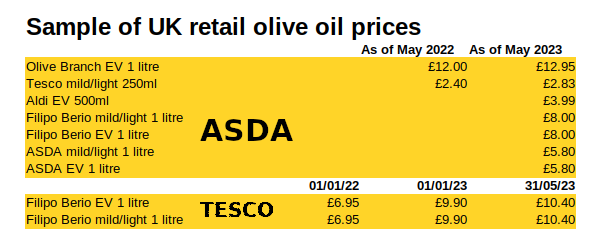 The UK market caters for small introductory purchases: 250ml bottles currently retail for GBP 2.45p for olive oil, GBP 2.55p for EV (Sainsbury on June 1), while a Tesco 250ml bottle of bland mild and light olive oil has risen by 18% over the past year to GBP 2.83p. Tesco pricing for a litre of leading brand EV has risen steadily over the past 18 months by 50% from GBP 6.95p to GBP 10.40p, while ASDA increased the shelf edge price for the same branded litre of EV from GBP 6.50p to GBP 8 on June 1.
As of June 1, the ASDA shelfedge price for a one litre bottle of Filipo Berio EV went up to GBP 8, while Tesco was asking GBP 10.40 for the same product. It is safe to suppose that ASDA was not selling this line at a loss. So "every little helps" Tesco is charging 30% more than its rival. The day before, the differential was 60% for the same stock on the same shelves in their respective stores.
At a nearby town centre branch of Iceland during the same store check, the olive oil category was a one liner in every sense of the phrase. It comprised a single SKU, 500ml of ordinary olive oil for £4 in a tertiary brand, packed in a tidy plastic bottle. A no-frills distress purchase.
UK grocers selling olive oil have been milking the category. Spanish consumers get through a per capita average of 10 litres a year. They know what it's worth and expect to get value for money. At the moment, headline olive oil prices are rising and are close to EUR 5,500 a tonne for EV grades. UK retailers will have to rethink their margin expectations if they are going to secure product and continue selling it. The party's over, guys.