For centuries urban populations have cheerfully ignored one of the most basic phases in the rhythm of the planet's life, thanks to rapidly evolving technology. It is paradoxical, but completely normal, for millions of people around the world to treat the hours of day and night as interchangeable. In the twenty first century, the electric light switch rewrites all the rules governing what can be done at different times of day. For all practical purposes, such rules have no current application.
City life is 24/7, thanks to artificial lighting. A trivial gesture over a light switch is all many of us need to turn night into day. But this has not always been the case and if we make any serious progress with choking off climate change, we will have to rethink our energy expectations, too.
Before the widespread use of electric light, the availability of town gas pipes determined the extent of street and domestic lighting in industrial towns and cities. Go back a century and the demand for animal fats and oils to make candles and run lanterns was significant, if waning. But go back further and a gaping chasm re-appears between those who lived in sparsely-lit houses and those who could afford to routinely light their homes and entertain guests to dinner or dance the night away at elaborate balls.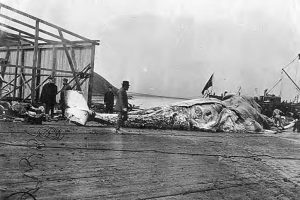 Dig a little deeper into history and the lighting fuel of choice was whale oil, initially processed in dockside refineries around the world, later produced on board ship as whaling vessels became large enough to accommodate the necessary equipment and tankage. From being a rough and ready battle with nature and the elements, fraught with danger for the dinghy crews, whaling became an increasingly ruthless war of attrition that drove whole species to the brink of extinction. As well as extracting all the oil from a huge carcase, the whaling industry earned substantial money from whale meat, with some cuts sold on for cheap food products and the rest sold to feed urban cats and dogs. In this context, the dog's dinner was a secondary by-product from the days of lucrative barrels of whale oil.The whaling industry went into a long term decline as a direct result of its impact on whale numbers.